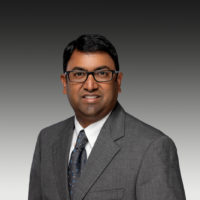 Call to make an appointment with
Sudheer Reddy, M.D. today
Sudheer Reddy, M.D.
Foot & Ankle Specialist
Sudheer Reddy, M.D., is an orthopaedic surgeon who specializes in the diagnosis and treatment of foot and ankle injuries and conditions, as well as sports related injuries. He joined Shady Grove Orthopaedics in 2017.
After receiving his undergraduate degree, Dr. Reddy earned his medical degree at Albany Medical College, in Albany, New York. He was welcomed as a Junior year member into the Alpha Omega Alpha Medical Honor Society. Dr. Reddy then completed a surgical internship and orthopaedic surgery residency at the Hospital of University of Pennsylvania, in Philadelphia, Pennsylvania.
After finishing his residency, Dr. Reddy completed advanced fellowship training in orthopaedic sports medicine at the University of California-San Francisco, as well as foot and ankle orthopaedic surgery at the Oakland Bone and Joint Center, in Oakland, California.
Dr. Reddy is board-certified by the American Board of Orthopedic Surgery. Additionally, he is a fellow of the American Academy of Orthopaedic Surgeons, and an active member of the American Orthopaedic Foot and Ankle Society.
When Dr. Reddy is not seeing patients, he enjoys traveling, reading about history, and playing tennis.
---
Foot and ankle trauma
Diabetic foot care
Ankle arthroscopy
Foot and ankle arthritis
Sports injuries of the foot and ankle
Paralytic deformities
Achilles tendon rupture
Common toe deformities
Plantar fasciitis
Total ankle replacements
Bunion
Achilles tendonitis
Disease and/or infection
Fracture care of the foot and ankle
Rensselaer Polytechnic Institute, Troy, New Jersey
Albany Medical College, Albany, New York
Internship, Residency, & Fellowship
Hospital of University of Pennsylvania, Philadelphia, Pennsylvania
University of California, San Francisco, California
Oakland Bone and Joint Center, Oakland, California
Annual Research Award, American Association for Hand Surgery - 2005
Orthopaedic Research Education Foundation (OREF)/Bayer Pharmaceuticals Resident Research Award - 2005
American Academy of Orthopaedic Surgeons Resident E-letter Advisory Board Member - 2005
Jacquelin Perry Award, Orthopaedic Rehabilitation Society, American Academy of Orthopaedic Surgeons - 2005
21st Annual Smith & Nephew Resident Research Competition Award Recipient - 2006
Selected for AAOS/AOFAS Capitol Hill Research Days - 2014
American Orthopaedic Foot and Ankle Society Traveling Fellow - 2016
?>
Copyright © Shady Grove Orthopaedics