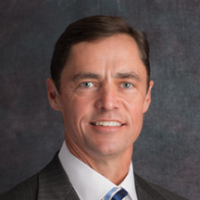 Call to make an appointment with
Joseph A. Shrout, M.D. today
Joseph A. Shrout, M.D.
Hand, Upper Extremity & Sports Medicine
Dr. Shrout is a graduate of Oregon State University where he was awarded High Honors with a Bachelor of Science degree. He earned his Doctor of Medicine at the Uniformed Services University of the Health Sciences in Bethesda, MD, and then received his post-graduate orthopaedic surgery training at Madigan Army Medical Center in Tacoma, WA.
He worked for six years in general orthpaedics and sports medicine, including a one year combat deployment to Iraq in 2003 as a Forward Surgical Team commander with the decorated 101st Airborne Division. Upon his return, he completed a one-year Hand and Upper Extremity fellowship at Walter Reed Army Medical Center in Washington, D.C. in conjunction with the Curtis National Hand Center in Baltimore, MD.
Dr. Shrout has been practicing in orthopaedic surgery since 1994, and retired from the U.S. Army in 2011 at the rank of Colonel. He has been in private practice in the Washington area since 2011, and has maintained his involvement in orthopaedic sports medicine by participating as a team physician for the D.C. United Men's professional soccer team, and Head Team Physician for the D.C. United Women's team in 2012. In 2013 he served as Head Team Physician for the inaugural season of the National Women's Soccer League professional team, the Washington Spirit. He also has a particular interest in the treatment and prevention of sports related injuries of the upper extremity.
Dr. Shrout and his wife, Anne, have three daughters who are active in school and sports. The family enjoys golf, fitness, and water skiing.
---
Cubital tunnel syndrome
Tennis & golfer's elbow
Knee ligament & meniscal injuries
Many other painful conditions of the upper extremity
Fractures of the hand, wrist, forearm, elbow, & shoulder
Soft-tissue injuries of the hand, wrist, forearm, elbow, & shoulder
Arthritis of the hand, wrist, elbow, & shoulder
Arthroscopic surgery of the knee, shoulder, elbow, & wrist
All arthroscopic rotator cuff repair
Knee ligament reconstruction & meniscal repair
Shoulder joint replacement for painful arthritis
Endoscopic carpal tunnel release
Elbow, wrist, & hand ligament repair/reconstruction
Tendon repair/reconstruction of the hand and forearm
Oregon State University, Corvallis, OR
Uniformed Serves University of the Health Sciences, Bethesda, MD
General Surgery, Madigan Army Medical Center, Tacoma, WA
Orthopaedic Surgery, Madigan Army Medical Center, Tacoma, WA
Orthopaedic Surgery since 2000
Hand Surgery since 2008
Orthopaedic Sports Medicine since 2008
Top Doctors Washington/Baltimore – 2012
Order of Military Medical Merit – 2011
Bronze Star Award – 2003
Meritorious Service Medal – 2004, 2007, and 2011
Fellow, American Academy of Orthopaedic Surgeons, 2001
Fellow, American Society for Surgery of the Hand, 2009
Fellow, Arthroscopy Association of North America, 2009
?>
Copyright © Shady Grove Orthopaedics