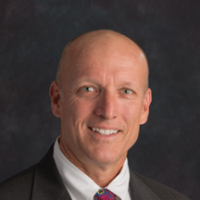 Call to make an appointment with
Mark A. Peterson, M.D. today
Mark A. Peterson, M.D.
Knee & Shoulder Specialist
Mark A. Peterson, M.D., specializes in the diagnosis and treatment of mobility problems resulting from sports related injuries of the knee and shoulder.
Dr. Peterson has more than 25 years' experience in total joint replacement and he joined the Shady Grove Orthopaedics team in 1999. He has been certified in the latest technology, using computer navigated partial and total knee replacements. Dr. Peterson also has a special interest in cartilage restorative procedures, which are appropriate for patients with damaged cartilage. These patients may be candidates for less invasive procedures as an alternative to total joint arthroplasty.
Dr. Peterson is board-certified in orthopaedic surgery with additional board certification in sports medicine by the American Board of Orthopedic Surgery. He has served as Chief of Surgery at Shady Grove Hospital and as a member of the Hospital's Board of Trustees. He is active on the Shady Grove Hospital's Credentialing Committee as well.
After graduating cum laude from The University of Delaware, Dr. Peterson earned his medical degree from Georgetown University School of Medicine in Washington, D.C. He then completed his orthopedic residency at the Campbell Clinic, University of Tennessee Health Science Center, Memphis, TN, home to the nation's first orthopedic residency program and definitive textbook on the subject, Campbell's Operative Orthopedics.
Dr. Peterson enjoys staying active traveling, gardening, fitness training, and playing racquet sports, golf, and skiing.
Services: Mako Total Knee Application
Shady Grove is proud to be the only Hospital in your region offering this new treatment option. Mako Total Knee transforms the way total knee replacements are performed. The Mako Total Knee application is a knee replacement treatment option designed to relieve the pain caused by joint degeneration due to osteoarthritis. Through CT-based 3D modeling of bone anatomy, surgeons can use the Mako System to create a personalized surgical plan and identify the implant size, orientation and alignment based on each patient's unique anatomy. The Mako System also enables surgeons to virtually modify the surgical plan intraoperatively and assists them in executing bone resections.
Services: BioCartilage Treatment Options
Articular cartilage, also called hyaline cartilage, is the tissue component that covers the joint surface at the end of a bone. A joint typically consists of two bones connected together with the articular cartilage of each bone opposing the other. When healthy, the cartilage allows our joints to go through painless range-of-motion and helps to provide shock absorption when weight-bearing. When cartilage is damaged, this may cause patient discomfort along with joint swelling, which leads to decreased range-of-motion and stiffness.
BioCartilage is developed from allograft articular cartilage. After going through a number of pro-prietary processing steps, the result is a cartilage extracellular matrix scaffold. BioCartilage contains the extracellular matrix that is native to articular cartilage, which includes scaffolding proteins and additional cartilaginous growth factors. The small particles are mixed with a blood solution that comes from your own body in order to create a paste-like consistency that can be applied over a cartilage defect. The goal is to improve the tissue quality formed after utilizing a bone marrow stimulation technique.
"I went with Dr. Peterson for both knees over 6 months. I had put surgery off for several years but both knees slowly got worse. The surgery went great both times – I only needed my crutches for 2 days the second time. I was off the pain killers in less time than expected. I was concerned about the rehab. But I am happy to say I had a nearly painless and successful rehabilitation. It was really quite manageable. I did a lot of the work by myself at home, a little bit each day as well as attending out-patient PT. I was going up and down the stairs very quickly. More to the point I feel 10 years younger, walk straighter and am no longer in low level pain!"
-John Graham
"I have had knee issues for years. I have had various shots in both knees that were temporary fixes at best. I met with Dr. Peterson and he told me I was a good candidate for a partial knee replacement. I had the surgery on 3/29 and my knee feels great. It gets stronger everyday. I cant wait to get my other knee done next year. I will definitely be going back to Dr. Peterson at Shady Grove Orthopaedics."
-Ken B. (Yelp, 5-Stars)
---
Sports medicine
Total and reverse total shoulder replacements
Surgical treatment of shoulder dislocations
Ligament injuries to shoulder
Rotator cuff repair
Ligament injuries to knee
ACL reconstruction
Meniscus reconstruction
PCL reconstruction
Dislocation patella correction
Knee multi-ligament reconstruction
Computer navigated robotic surgery (partial and total)
Total knee replacement
Cartilage transfer surgery
University of Delaware, Newark, DE
Georgetown University School of Medicine, Washington, D.C.
General Surgery, University of Tennessee, Memphis, TN
The Campbell Clinic, University of Tennessee, Memphis, TN
Chief of Surgery, Shady Grove Hospital, 2008-2009
Member, Shady Grove Adventist Governing Board, 2008-2013
Washingtonian Top Doctors, 2017
?>
Copyright © Shady Grove Orthopaedics