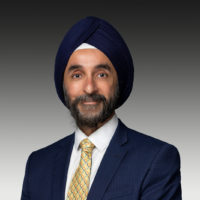 Navinder Sethi, M.D.
Minimally Invasive Surgery of the Cervical, Thoracic, and Lumbar Spine
Dr. Navin Sethi grew up locally and went to the University of Virginia and then to medical school at the Johns Hopkins University School of Medicine. He completed an orthopedic surgery residency at the top ranked Washington University School of Medicine in St. Louis. Dr.  Sethi then went on to complete a fellowship in spine surgery at the internationally known Emory Spine Center in Atlanta.
As a specialist in minimally invasive and outpatient spine surgeries, Dr. Sethi has lectured both nationally and internationally on topics related to the spine and has had surgeons from all over the world watching him in the operating room.  He has written numerous articles and given multiple presentations to the attendees at the prestigious American Academy of Orthopaedic  Surgeons, Northern American Spine Society, and Cervical Spine Research Society meetings, among others.
He has been named one of the 50 best spine surgeons in America by Becker's Healthcare Magazine and has been voted both a Washingtonian Magazine and Bethesda Magazine Top Doc.  In his spare time, he works with the Make a Wish Foundation and a local food bank and has been recognized by the Governor of Maryland for his volunteer efforts.
---
Nerve pain
Neck pain
Back pain
Pinched nerve in neck with arm pain
Pinched nerve in back with leg pain
Radiating pain to the arm or hand
Lumbar disc herniation
Cervical disc herniation
Weakness of the arm or hand
Nerve pain in the arm or leg
Sensory disturbance/sensitivity of the arms and legs
Scoliosis (Medical management & bracing)
Spinal stenosis
Arm or hand clumsiness or numbness
Other spinal injuries (spondylolisthesis)
Spondylolisthesis
Spine fractures
Lumbar fractures
Minimally invasive spine surgery
Out-patient spine surgery
Microdiscectomy
Sciatica
Disc herniation
Spondylolysis & spondylolisthesis
Cervical and thoracolumbar fractures
Myelopathy
Johns Hopkins University School of Medicine, Baltimore, MD, 1995
Washington University School of Medicine, St. Louis, MO, 2000
Emory University School of Medicine, Druid Hills, Georgia, 2001
?>
Copyright © Shady Grove Orthopaedics