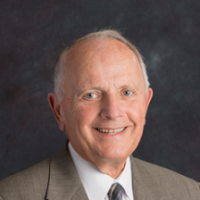 Call to make an appointment with
R. Marshall Ackerman, M.D. today
R. Marshall Ackerman, M.D.
Hip and Knee Arthritis
R. Marshall Ackerman, M.D., is an orthopaedic surgeon who specializes in the management of the arthritic hip and knee. Starting practice in Washington, D.C., in 1969, he moved to Montgomery County in 1972 and founded the practice which became Shady Grove Orthopaedic Associates.
After receiving his Bachelor of Science and medical degrees from the University of Pittsburgh in Pittsburgh, PA, he completed his internship at Montefiore Hospital, also in Pittsburgh. He then served two years as a captain in the United States Air Force as an orthopaedic surgeon at Scott Air Force Base in Illinois. Following his military service, Dr. Ackerman completed residency training in orthopaedic surgery at The University of Iowa in Iowa City, Iowa. He is board certified by the American Board of Orthopaedic Surgery and is a Fellow of the American Academy of Orthopaedic Surgeons.
In 1970, Dr. Ackerman was one of the first orthopaedic surgeons in Washington, D.C., to perform total hip replacement with cement under his own investigator license and has done clinical research in the development of hip replacements. He founded the Joint Replacement Center at Shady Grove Adventist Hospital in Rockville, MD, and was its director from 2000 to 2012. He is a charter member of the American Association of Hip and Knee Surgeons. Dr. Ackerman's current practice is limited to office consultations with particular interest in the management of the arthritic hip and knee.
When he is not seeing patients, Dr. Ackerman enjoys spending time with his grandchildren; reading fiction, history and philosophy; golf; travel; and bridge.
Management of arthritis of the hip
Management of arthritis of the knee
Consultation for second opinion (hip & knee replacements)
General orthopaedics for all musculoskeletal symptoms
Care of fractures, acute sprains, & dislocations
University of Pittsburgh, Pittsburgh, PA
Montefiore Hospital, Pittsburgh, PA
Orthopaedic Surgery, The University of Iowa, Iowa City, IA
Phi Beta Kappa, University of Pittsburgh
Physician of the Year, Montgomery County Medical Society, 1997
President of Medical Staff, Shady Grove Adventist Hospital, 1985-1987
"Top Doctor," Washingtonian Magazine, 1989-2014
?>
Website created by MOSAIC
Copyright © Shady Grove Orthopaedics